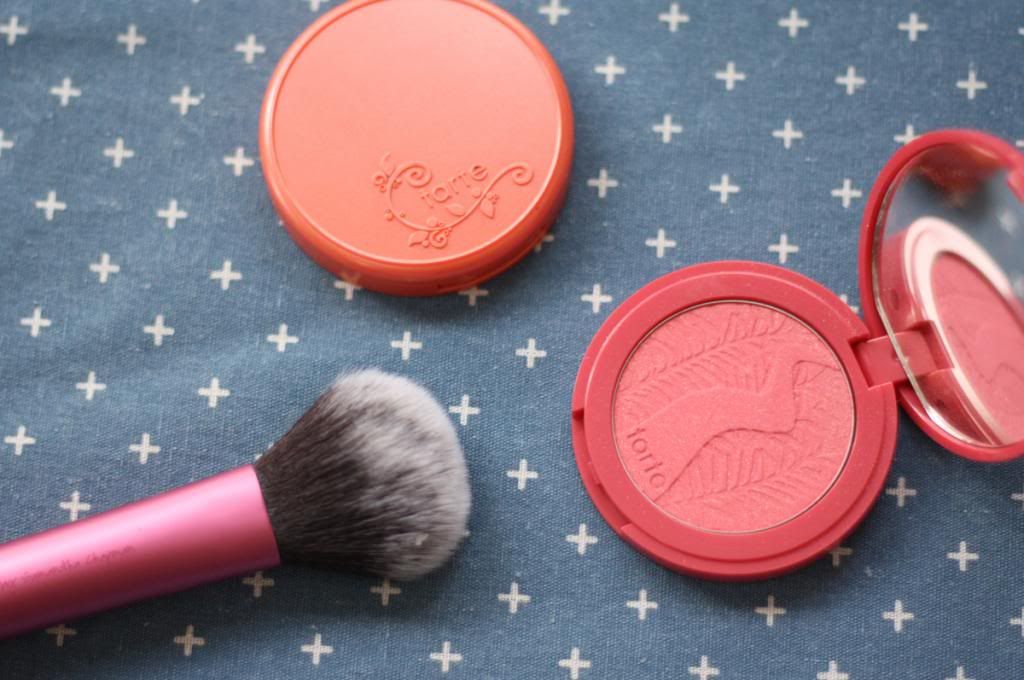 Are Tarte Amazonian Clay 12-hour blushes made for Youtube? Good question, Morgan. I'm not alleging some great conspiracy or anything, but these things are pigmented like nothing else. We talk about things being pigmented as a good thing, but usually in the case of eyeshadow and lipstick. For blush that's not really the case. What could you possibly need a blush this pigmented for? Maybe so it shows up well in Youtube videos…?
I know these are impossibly hard to get your hands on in New Zealand, but because I am obsessed with acquiring cosmetics and because these things have beautiful packaging, I decided I needed to get them ALL. They are pricey at $26 USD each, so I started out with two: Frisky and Tipsy.
Tipsy is coral, and Frisky is hot pink with chunks of glitter. When applying these, less is more. You only need to put your brush NEAR the pan and you've already picked up too much. The first time I wore Frisky, someone at work commented on how rosy my cheeks were (note I said commented, not complimented). Tipsy is a little easier to work with, but I'm still very careful when applying these. I could never use these on a day when I'm in a rush!

Clockwise from top: NARS blush in Desire, Tarte blush in Tipsy, Tarte blush in Frisky, Australis Paparazzi Perfect HD blush in Screen Siren, and NARS blush in Deep Throat. Deep Throat isn't really a bright blush, but I included it as a reference for a more reasonable everyday blush colour.
I thought maybe it was just the bright packaging that was throwing me off, so I pulled out my other bright blush colours for comparison. I swatched each blush on my inner arm with two swipes. As you can see, the Tarte blushes are much, much brighter and more pigmented than the others, even than NARS Desire, which I consider a very bright blush, but which applies somewhat sheer.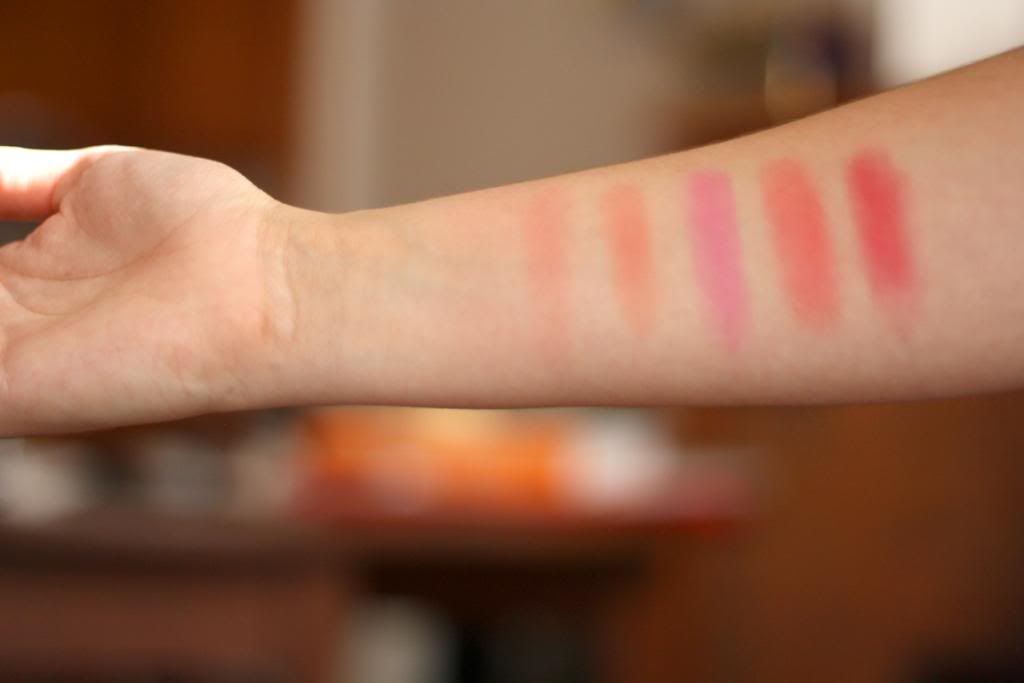 Left to right: NARS Deep Throat, Australis Screen Siren, NARS Desire, Tarte Tipsy, Tarte Frisky.
My speculation is thus: The Tarte Amazonian Clay 12-hour blushes were launched at the start of 2011, which was when beauty Youtubers were really taking off. Sending PR samples to girls on Youtube who will then show off these gorgeous products to their hundreds of thousands of viewers… it's smart. And so you want a product that will show up on camera!
Based on my (single) experience of being on Youtube, that is, the brief part where I show up in Arna's vlog of the Makeup Obsessives meetup, I have discovered that your makeup all kind of disappears on camera. That day I put on more than usual eye makeup and blush, but it's nowhere to be seen on the video. It's like how the camera (allegedly) adds ten pounds, but the camera removes all your makeup too.
In addition to Youtube being a huge market, Tarte also have a really strong relationship with QVC, a shopping channel in the US and UK. QVC will be Tarte's exclusive retailer in the UK market when they start selling there later this year. (And hopefully New Zealand soon, please?)
So what do we end up with? Gorgeous packaging, with colours that show up great in the pan, swatched and applied on camera, but a bit over the top for everyday use. I still have a soft spot for these because of how lovely they look, but they've been relegated from the 'every day blushes' drawer in my MUJI unit to the 'face things I am keeping but don't use as much' drawer.
Have you tried the Tarte Amazonian Clay blushes? What do you think?
Don't forget to enter our Living Nature giveaway! The giveaway closes on Tuesday 11 February at midnight.