Here's a look at what I've been loving lately. I'm not going to make these types of posts a weekly feature, but when I find a handful of products worth sharing that I haven't talked about on the blog before, I'll post them like this. This time they're all relatively new to me, but my budget is going to be a little tight in the next month or so. Callum and I (I feel like I should adhere to blog logic and call him 'Mr HG', but that's weird) just signed the lease for a new house, and the combined impact of coming up with bond, paying double rent for a couple of weeks where the lease overlaps, paying for movers, buying new furniture… these things naturally come first before my beauty obsession.
I started this post with a gif, which I know is another beauty blog standard, but I couldn't help it after I went through my photos and noticed how well these two work together. And I learned a new skill! How to make gifs in Photoshop. I don't know how handy that will be for other parts of my life, but still. Learning. Success.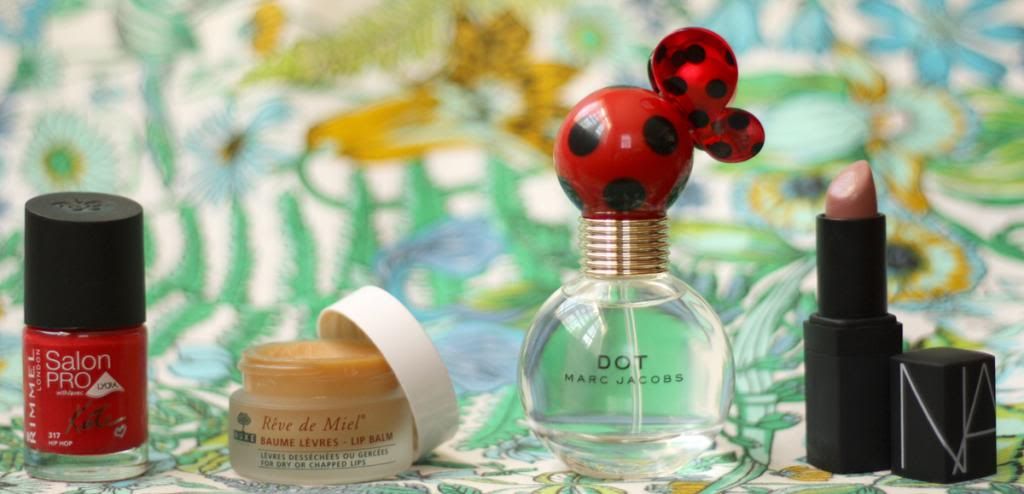 Rimmel London Salon Pro Nail Polish by Kate in Hip Hop – this nail polish featured in one of the first ever Hyacinth Girl posts, a spring wishlist way back in September. I don't know if it was coincidence, or if they're good blog stalkers, but Tara and Ellen from Shop Style Conquer (a gorgeous blog, you must follow if you don't already) sent this to me along with the jelly sandals I won in their giveaway a while back. I've always loved Rimmel nail polishes because they're so affordable (less than $15 at Farmers, if I recall correctly) and they're so good I'd be happy to pay more for them. Good colours, nice finish, fast drying and they come with a really wide brush which makes application quick and easy.
NUXE Reve de Miel lip balm – I threw this in to a Beauty.com order after seeing so many girls on Youtube rave about it, especially Estée. This is a serious business lip balm! I pop it on at night, as part of my growing bedtime skincare routine. It provides a good hydrating barrier that lasts through the night, but it's too heavy to wear under other lip products and during the day. I do think it's worth the spend, but I don't think you can buy it in New Zealand.
Marc Jacobs DOT Eau de Parfum – This was my Christmas present from my Granddad. He's part deaf and very averse to strong scents, so I know it was a special gift because he braved Farmers and the fragrance counter for me. He said he asked for Spot, but they knew what he meant! This is the Eau de Parfum, so the scent is much stronger than my other MJ perfume. I usually put on Daisy Eau So Fresh in two or three spritzes, but that would be going overboard with this. Luckily that means my 30ml bottle will last much longer, though. The fragrance is sweet and fruity – maybe not for everyone, but I was dreaming of this ever since I first sampled it.
NARS Sheer Lipstick in Cruising – I spent about an hour and a half in Mecca Cosmetica at the end of last year looking for the perfect MLBB shade. I had the lovely Keryn helping me, and over the course of our investigation into every nude lipstick Mecca stocks, we bonded (of course) over the fact that we both love makeup. This lipstick actually ended up being the very first one we tried. It's sheer (as the name suggests) and is already very similar to the natural colour to my lips, but putting it on makes me feel more polished. It cost $51 NZ, which is a pretty big hunk of cash to drop on one lipstick, and in my present financial situation I wouldn't dream of spending that over again. But I own it, and I don't regret it, and if you're inclined to spend that much or if you live in the States, these lipsticks are worth checking out.
I'm working on a few more exciting posts coming up soon, on top of the other million things I have to do. What are you loving at the moment? Please tell me, so I can live vicariously through you while my spending is on hold!